FDA Announces Safety Label Changes to Finasteride
April 12, 2012 — The product labels for finasteride 1 mg (Propecia) and finasteride 5 mg (Proscar) from Merck & Co are being revised to note that some sexual adverse effects may continue after the drugs are discontinued, the US Food and Drug Administration (FDA) announced April 11.
The new label changes include:
a revision to the Propecia label to include libido disorders, ejaculation disorders, and orgasm disorders that continued after discontinuation of the drug,
a revision to the Proscar label to include decreased libido that continued after discontinuation of the drug, and
a revision to both the Propecia and Proscar labels to include a description of reports of male infertility and/or poor semen quality that normalized or improved after drug discontinuation.
In 2011, both Proscar and Propecia's labels were revised to include erectile dysfunction that continued after drug discontinuation.
The FDA approved finasteride 5 mg in 1992 to treat benign prostatic hyperplasia and finasteride 1 mg in 1997 to treat androgenic alopecia in men. Finasteride 1 mg is also used off-label to treat unwanted facial hair in women. It has also been studied for chemoprevention of prostate cancer and is used off-label for this, but this use has not been approved by the FDA.
Adverse Event Reports Prompt Action
The FDA notes that sexual adverse effects were reported by patients during clinical trials of finasteride, a 5-alpha reductase inhibitor, and that this information was included in the drug's labels at the time of approval. In clinical trials, these adverse effects resolved in patients who stopped taking finasteride, as well as in most patients who continued therapy.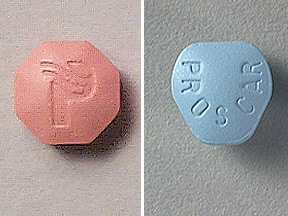 Finasteride (Propecia, Proscar)
For finasteride 1 mg, the FDA reviewed 421 postmarketing reports of sexual dysfunction submitted to the agency's Adverse Events Reporting System database between 1998 and 2011. Of these, 59 cases reported sexual dysfunction that lasted for at least 3 months after discontinuation of the drug, and included erectile dysfunction, decreased libido, problems with ejaculation, and orgasm disorders.
For finasteride 5 mg, the FDA reviewed 131 cases of erectile dysfunction and 68 cases of decreased libido associated with the drug that were submitted to the drug sponsor's global safety database between 1992 and 2010. Where information was available, these reported events of erectile dysfunction and decreased libido lasted for at least several weeks after drug discontinuation, the FDA says.
"Despite the fact that clear causal links between finasteride (Propecia and Proscar) and sexual adverse events have NOT been established, the cases suggest a broader range of adverse effects than previously reported in patients taking these drugs," the FDA notes in a statement. "Information about these adverse events may be important to individual patients. Therefore, prescribers and patients need to be aware of them, as part of a discussion of risk and benefits of finasteride when determining the best treatment options," the statement continued.
The agency notes that in controlled clinical trials of finasteride 1 mg, 36 (3.8%) of 945 men reported 1 or more adverse sexual experiences compared with 20 (2.1%) of 934 men who received placebo.
Sexual adverse events associated with finasteride 5 mg surfaced in 2 clinical trials. In 1 trial, these events were reported more frequently during the first year of treatment compared with in men who received placebo. In years 2, 3, and 4 of the trial, there was no significant difference between treatment groups in the incidences of impotence, decreased libido, and ejaculation disorder, the FDA says.
More information about the FDA announcement is available on the agency's Web site.
To report adverse events related to finasteride, contact MedWatch, the FDA's safety information and adverse event reporting program, by telephone at 1-800-FDA-1088, online at https://www.accessdata.fda.gov/scripts/medwatch/medwatch-online.htm or by mail to MedWatch, FDA, 5600 Fishers Lane, Rockville, Maryland 20852-9787.